Chief Mate Prepratory Courses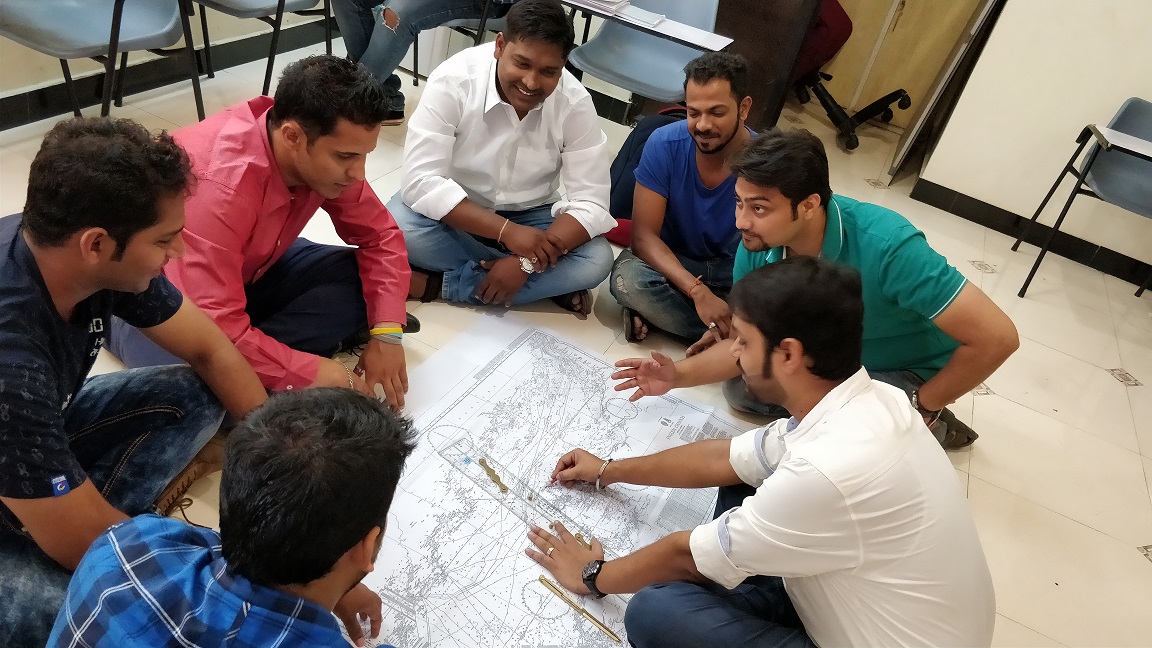 Course Description :
Taking our main drives from the operational level, gradually and steadily we have planted ourselves in the Management Level preparation of Chief Mate Phase 1 and Phase 2 as well with a motive of "Quality Education creates Quality Resource".  Our coaching classes for Chief Mate Phase 1 course in Mumbai has picked up an unexpected pace over past 2 years or so mainly because of our aptitude to always be result oriented and engaging ourselves along with the growth of our candidates. Similar responses are fast emerging in coaching for Chief Mate Phase 2 course and coaching for Chief Mate Orals as well.
Keeping the flag of consistency in delivering excellent educational platform always high along with achieving constant result, the reputation of this Institution has only grown in stature with each passing year now standing in its 8th year of existence and a total experience of teaching over a massive 1300 students in strength. With this regard following are the course details:
Subjects Undertaken :
Written : Celestial and Terrestrial Navigation, Ship Stability and Naval Architecture – I, Cargo handling and Stowage, Naval Architecture – II  and Engineering Knowledge.
Orals : Function 1 , Function 2 and Function 3.
Course Duration :
Written: 3 Months (for all 5 written to be completed as per exam schedule of the candidate in part for Phase 1 and 2)
Orals: 2 Months (for all 3 functions)
Course available for: Any Chief Mate COC preparation around the globe including Indian FG , NCV ,UK ,New Zealand ,Australia ,Sri Lanka and Singapore.
Note: Guidance in subjects apart from a fore mentioned ones is always provided depending on availability of time and faculty during the routine sessions. Charges for the same if applicable would only be decided at hand by the administration.
Learning Outcomes :
Over 250 Lectures and 450 hrs of content!
Training Module includes testing your knowledge at various levels.
Sessions are started from basic lectures in each subjects guarding individual attention to candidates.
Professional Mentors at the institute keep track of the growth of candidates at all times.
Information packed practical training starting from basics to advanced application of knowledge learnt is an integral part of the sessions.
Best suitable for beginners to advanced level users and who learn faster when demonstrated.
Course content designed by considering the current and latest technologies and your performance on board through its application.
Theoretical and Practical assignments at the end of every session.
Different course material imparted at various times as per the requirement of the sessions.
Course Features
Lectures

52

Quizzes

0

Duration

3 hours/Day

Skill level

Management

Language

English / Hindi

Students

264

Certificate

No

Assessments

Yes
Terrestrial and Celestial Navigation

Cargo Handling and Stowage

Ship Stability
Yamandeeps

Yamandeep Singh

One of the best institute for 2nd mate and mates exam preparation I had done mate exam preparation and very good experience . They are teaching from base and clear all your doubts.The teachers are very helpfull, friendly, and experienced. One of the best Institute to join for those who requires assistance in order to clear their exams and orals

sandeep agarwal singhal

Few best things about the CMG and the instructors

They are completely dedicated towards teaching.Time is not a issue at all.What i have noticed first time in India that they are solving each & every questions of past competency papers with proper solution & correct answer.Once they explain & solve the problem the candidate is not going to have any doubt whether the answer is right or wrong. They are ready to explain as many times the candidate wants with better explanation every time. I would say that even a weakest student can get a positive result but personal effort is must.They can give their maximum but our maximum is required to get the 'Pass' result in first attempt. Very friendly and comfortable atmosphere for each & every student. Hats off to CMG !

Adarsh k mana

Cmg

Attended the phase 1 and 2 preparation courses from cmg.its the worth money you invest and best place to study and prepare for the competency exams. Cmg have experienced faculties who have vast experience of more than 7 years in teaching and exam preparation for competency exams.all batches consist of 10 to 12 candidates which helps to clear all the doubts.faculties are approachable at all times.study materials provided from institute has covered whole syllabus and precise to exam preparation.mock test provided at end of the courses provide confidence prior appearing mmd exams.even the online sessions conducted by cmg is also helpful for the candidates (outside mumbai) for the exam preparation.i found cmg courses very helpful for preapring and clearing mmd exams .

Amitesh Chandra

Be SMART join CMG: It would save your lots of precious time.

CMG is the best institute for clearing MMD Exams. My learning experience had been amazing, I cleared Mate's Phase-I in my first attempt with only 2 months of preparations which I am sure I wouldn't have had achieved with my preparations alone. An institute you can trust blindly for 100% guaranteed success. - Teaching Faculty has more than 7 years of teaching experience. Very knowledgeable, helpful, supporting, and approachable and hard working. - Batches are small in the group (10-12), (You have more time to clear your doubts). - Weak students get more personal attention compared to the best ones. - Teaching methods are highly result oriented (You don't have to think anything about your syllabus or topics etc). - Study materials are precise, concise and to the point. I am really very thankful to Vinit Sir and Deepam Sir for their excellent guidance and I wish all the best to CMG for bright future 👍👍

mohind

Simply "THE BEST"

I approached CMG after hearing rave reviews from friends and even fellow officers onboard,after my 1st meeting with Deepam Sir i was sure i wanted to join them.I cleared my Phase-1 exams in first attempt after studying here,Deepam Sir & Vinit Sir always guided me with smile.The atmosphere to study & studying methods suggested by them are great.Its definitely worth every penny you invest & above all simply "THE BEST".